Get in The Zone Clinic
October 13 & 14, 2018
Clinic Details
In this 2-part clinic, learn visualization techniques to optimize your dressage performance for competition and pleasure.  Participants will walk away with new perspectives and practical tools to bring your best self for you and your horse.
In part 1, you'll experience a visualization guided by me.  I'll guide you to identify your sensory preferences, your riding priorities and to create a powerful, personalized visualization for your ideal ride.  Additionally, you'll have an opportunity to release mental blocks that are no longer serving you, with the support of my intuitive and loving coaching horse.
In part 2, you'll put your new found awareness into practice on horseback.  In semi-private lessons, you'll have the opportunity to bring your visualization to life, practice your ideal rides and receive coaching support in creating the shifts you desire.
Who this clinic is for:
Competitive riders who know that they sometimes get in their own way and want to do better
Riders who are tired of struggling through their dressage tests
Riders who want to create better connection and teamwork with their horse
Investment
Saturday and Sunday - $150

Schedule
Saturday the 13th: 3 pm - 6 pm (Unmounted)
Sunday the 14th: 8 am - 11 am (Mounted)
Location
Paula Paglia Dressage
29292 N. 78th St., Scottsdale, AZ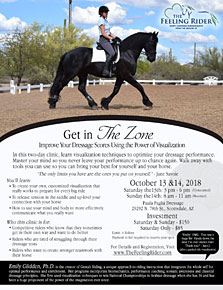 View The Zone flyer and share it with your friends. Thank you!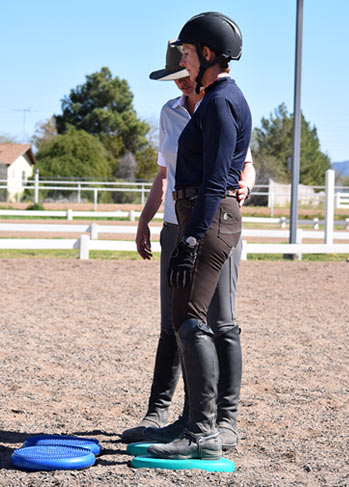 Testimonials
"A huge thank you to Emily Glidden for helping my students with body awareness/control over the weekend. With just small changes in the riders' seats the horses changed dramatically. She is truly a gifted teacher."
~ Beverly Rogers, USEF "S" Dressage Judge
---
"Emily has a fine eye for a rider's ease and seat in the saddle backed up by tools to help you shift what is not working for you and your horse. My session with her was phenomenal! I highly recommend her to anyone looking to change their riding experience from the 'inside out."
~ Ellen, L., Virginia
---
"I took three lessons with Emily and it completely changed and corrected my seat and my understanding of how a horse communicates. She coached me through specific exercises on the ground and in saddle, which enabled me to become more aware of my existing body mechanics and make the necessary changes to become centered in the saddle. Emily's kind and gentle demeanor made me feel relaxed, comfortable and self-assured as I went through the process of implementing small, yet significant changes to my body position while on my horse. Not only is Emily knowledgeable about proper technique and body mechanics; she is patient, capable, and simply a wonderful person to work with. I am looking forward to more lessons with this gifted teacher. Thank you Emily!!"
~ Dayna G., Arizona