Gestalt Riding Clinic
December 1-2, 2018 - 9 AM to 5 Pm
Clinic Details
In this 2-day clinic, discover subtle shifts in your position that make a world of difference to your stability in the saddle, the effectiveness of your aids and partnership with your horse.  Emily has guided hundreds of riders, from pleasure and trail riders to elite dressage, eventing and hunter-jumper riders, to find the optimal position and coordination of their body in the saddle.  Based on fundamental biomechanical principles, these movement-based body awareness lessons will leave you with new perspectives and practical tools to bring your best self to your horse.
Who this clinic is for:
Riders who want to improve their ability to ride both sides of their horse effectively
Riders who struggle with body tension and fatigue
Riders who want to feel more secure in the saddle
Riders who want to make their horse's job easier
Riders who want to create better connection and teamwork with their horse
Schedule & Format
Clinic hours are 9 am - 5 pm Saturday December 1st and Sunday December 2nd.  Participants will receive a 1 hr 1-on-1 lesson each day and are invited to watch all of the days' lessons, as certain themes will be repeated and there is borrowed benefit in watching others learn.
Investment
Space is limited.  Complete payment to reserve your spot!
1 Day - $110
2 days - $220
Facility Use
There is an additional haul-in fee for all horses that are coming from off-site for this clinic.  Stabling is also available on a limited basis.  Please contact Emily directly to pre-pay your haul-in and/or stabling fees.
Haul-in fee:
1-Day $25
2-Day $50
Stabling - Day pens without cover are available for all those trailering in.  You will need to provide your own hay and clean up after your horse.  Stalls with cover and overnight stabling may be available on a more limited basis.  Contact Emily directly to reserve a day pen, indoor day stall, overnight pen, or overnight stall. 
Haul-in plus day pen (no cover) 1 day $40
Haul-in plus day pen (no cover) 2 days $70
Location
Carefree Farms
36412 N. 7th Avenue, Phoenix, Az 85086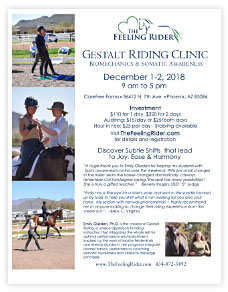 View Gestalt Riding Clinic Flyer and share it with your friends. Thank you!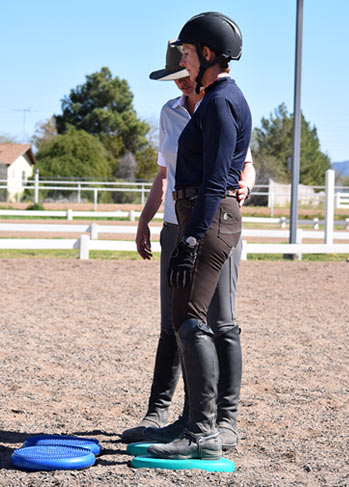 Testimonials
"A huge thank you to Emily Glidden for helping my students with body awareness/control over the weekend. With just small changes in the riders' seats the horses changed dramatically. She is truly a gifted teacher."
~ Beverly Rogers, USEF "S" Dressage Judge
---
"Emily has a fine eye for a rider's ease and seat in the saddle backed up by tools to help you shift what is not working for you and your horse. My session with her was phenomenal! I highly recommend her to anyone looking to change their riding experience from the 'inside out."
~ Ellen, L., Virginia
---
"I took three lessons with Emily and it completely changed and corrected my seat and my understanding of how a horse communicates. She coached me through specific exercises on the ground and in saddle, which enabled me to become more aware of my existing body mechanics and make the necessary changes to become centered in the saddle. Emily's kind and gentle demeanor made me feel relaxed, comfortable and self-assured as I went through the process of implementing small, yet significant changes to my body position while on my horse. Not only is Emily knowledgeable about proper technique and body mechanics; she is patient, capable, and simply a wonderful person to work with. I am looking forward to more lessons with this gifted teacher. Thank you Emily!!"
~ Dayna G., Arizona